Amazon product research with AMALYZE
Discover lucrative products on Amazon
Currently (status as of October 2018), the AMALYZE database contains more than 5.5 million researchable ASINs that are offered on the marketplace amazon.de. We pay particular attention to showing a highly representative selection of products in the respective top Amazon categories in the tool.
For this reason, 15,000 new ASINs are automatically added to tracking daily so that the amount of data in the AMALYZE Toolbox is constantly expanding.
Addition of new ASINs
In adding new ASINs into the system, we orient ourselves according to visibility from a customer perspective. Products with a good ranking, i.e., that have high visibility, best sellers, and competitors around the keywords of these best sellers thus have priority in being added into tracking so that the database in our tool is highly representative and truly reflects market conditions to the extent possible.
Database
Of course, we make no claims as to "completeness", but over the course of time, it consistently improves with respect to number of cases and potential sales numbers. If an ASIN is not yet in the database, users can simply add it into the tool and, from that point on, receive the latest information on the product for organic visibility, Amazon Best Seller Rank, reviews, potential competitors of the ASIN, and much more.
The PRIMARY IMAGE of the respective Amazon product in combination with the ASIN and, to the extend it exists, the associated EAN number.
Most recent status of PRODUCT AVAILABILITY (available or out of stock), and whether the ASIN is currently offered per 1-click ordering via the buy box on Amazon.
The TYPE of PRODUCT, whether it is a parent, an independent product, or a variation (child).
If ADVERTISEMENTS for the product in the form of SPAs are currently visible for the product and to how many keywords these are played off within the top 100 search results.
The number and type of COMPETITORS who also offer this product, whether these competitors offer the same product through Amazon Prime, and whether the product is also in the Amazon portfolio.
CONFORMITY measurement with regard to Amazon Style Guides of the respective top categories for the ASIN (SEO value).
An index of organic VISIBILITY in comparison to competitors (in reference to the respective main category of the ASIN) and its change (positive, negative, or same) in comparison to prior measurement.
The AVERAGE of all product reviews in terms of raw data from product ratings of 1 – 5 stars.
Absolute number of RATINGS product or, depending on case, combination of all product variations (in aggregate) has received.
TITLE LINE and, of course, BRAND of the product.
Name of the SELLER, who had the Amazon buy box at time of last data acquisition
MAIN CATEGORY of the product on Amazon and the associated BSR (Amazon Bestseller Rank)
Number of UNITS SOLD across a selected time frame and respective REVENUE product has attained.
If it exists, the UVP of the product as well as the current SALES PRICE at the time of the last data acquisition.
Whether the product is available through Amazon PRIME or not
The most recent INVENTORY LEVEL of the respective product
NUMBER of KEYWORDS to which ASIN ranks among top100 Amazon search results as well as their AVERGAGE POSITIONS including detected changes (increase / decrease in keyword number or average position)
List view
Additionally, the list view of Amazon products in AMALYZE can be customized by users; additional values (like color, size, or product measurements) can be added and unnecessary values simply hidden.
To further refine results of the generated data set, additional filters are available. ASIN lists can be sorted in ascending or descending order, e.g. to display products with the highest or lowest BSR, Amascore (index of organic visibility) or price at the top of the list.
Filter, limit, and further analyze search results in AMALYZE
An extensive set of filters is available to users in their search for interesting Amazon products. With these, users can limit search results and have them further refined by the tool according to certain criteria.
Via the text filter, a free text search within title lines of Amazon products can be done; a search can be limited to certain brands or a certain seller beforehand. Products that are currently unavailable can be included or excluded. Likewise, all ASINs that are already or not yet available for sale through Amazon directly can also be displayed in the tool.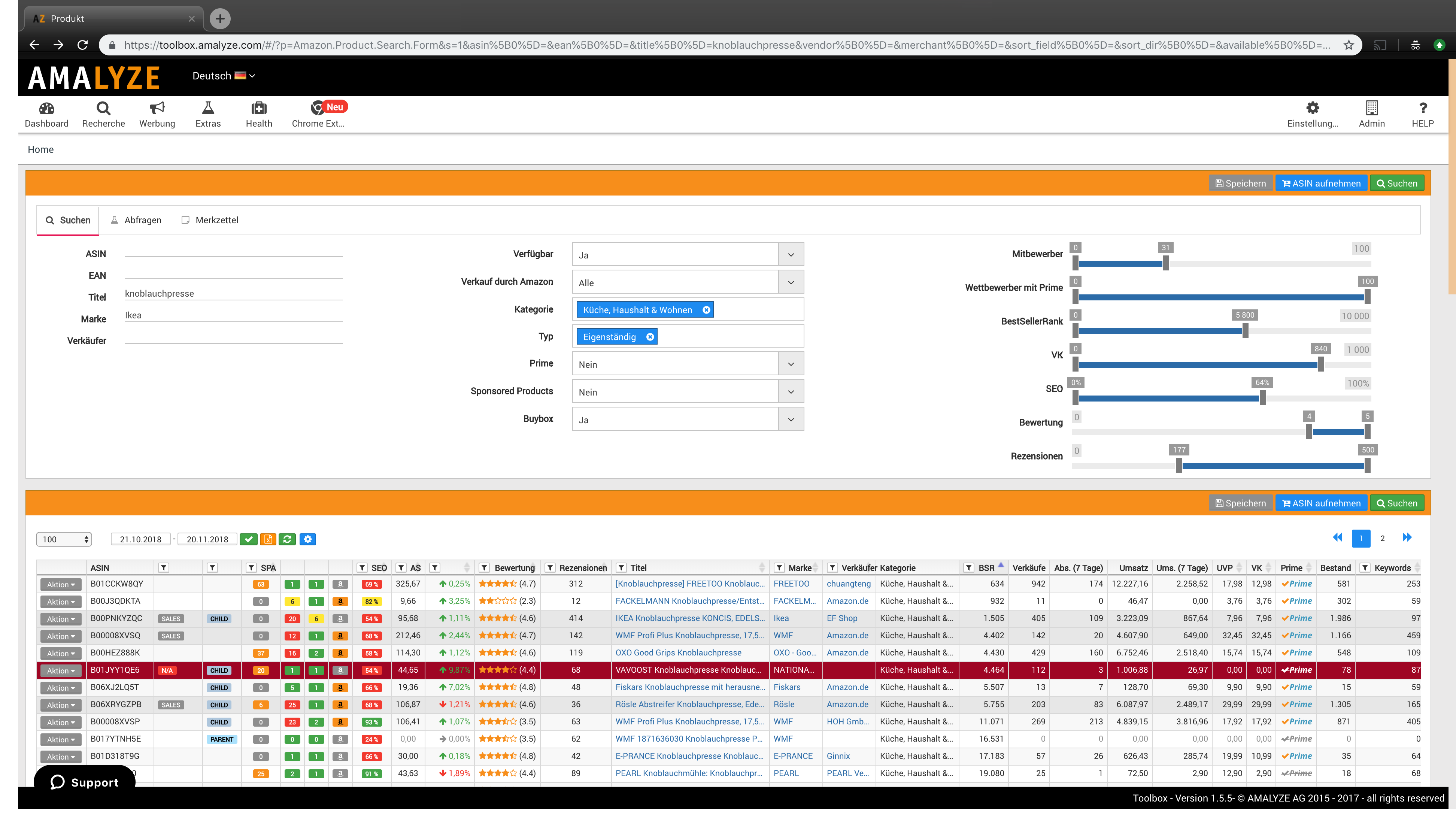 A category filter limits the selection to items from one or, if applicable, multiple Amazon main categories, which can then be further examined as to whether these ASINs are already available through Amazon Prime or not. On which products are PPC campaigns already running? On which ones are they not? Are there products that are currently available but have not received a buy box from Amazon? The AMALYZE tool shows us.
For analysis of competitor situations, identification of products within adjustable BSR bandwidth, and in the desired price range, additional filters are available.
All filters in AMYLYZE product research can of course be combined with one another. So you could enter the following search:
Show me all products by the BRAND Abus which contain "bike helmet" in the title, that are not currently sold by Amazon itself, are in the main category "sport and recreation", with a maximum of 5 competitors, not available through Prime, with a BSR between 1000 and 2000 and in the price range between 35 and 45 Euro, with an average rating of at least 4 stars but less than 10 reviews in total.
Because searches of this type involve a great deal of time and you shouldn't have to reinvent the wheel every month, you can save all searches with their respective parameters and retrieve them at a later date. The tool always displays the latest available values in the results list with every new execution of the search.
If individual results are to be saved from Amazon product research, perhaps as preselection for a later analysis or, on a seller level, to better structure product groups, individual ASINs can be transferred directly from the generated list view to the wish list, saved there, and retrieved at a later date.
Generated results can be downloaded via Excel export in steps of up to 100 datasets. For closer product monitoring, users can set NOTIFICATIONS on their own or competitor products from the list view. More information is available under the heading PRODUCT MONITORING with AMALYZE.