Launch Amazon DSP campaigns via AMALYZE and have them managed by us.
Amazon DSP
Amazon DSP is part of Amazon Advertising (formerly Amazon Marketing Services / AMS).
We are happy to take over your DSP campaigns for you as an agency.
Start now with AMALYZE with retargeting advertising for your Amazon products.
AMALYZE – Amazon DSP
Target audience on a large scale and reach everywhere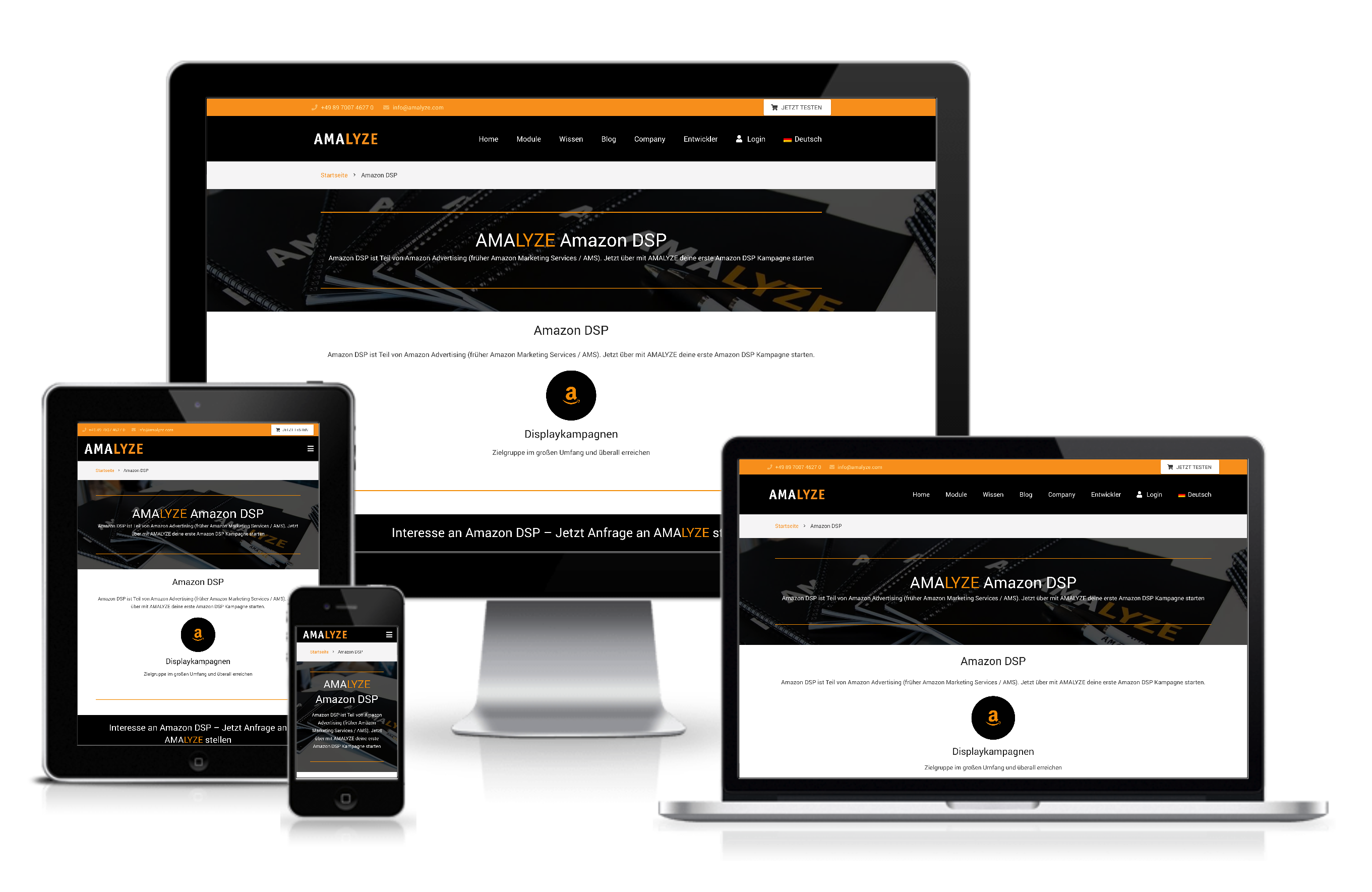 AMA

LYZE

Insights from Amazon DSP
What is Amazon DSP?
Amazon DSP is part of Amazon Advertising (formerly Amazon Marketing Services / AMS).
Amazon DSP (Demand Side Platform) former Amazon Advertising Platform or AAP, is a Demand Side Platform, with which programmatically target groups can be reached.
Customers who have looked at products on Amazon but have not placed them in the shopping basket, are shown the same products in Amazon's own look & feel again in advertising banners via DSP on subsequent visits to other websites. This can be programmed by strategy either for brand visibility or for more sales.
Display campaigns
The Amazon DSP can control display campaigns on Amazon websites and apps as well as on Amazon Publishing Partners and third-party sites.
CPM (Cost-Per-Mille)
Compared to other Amazon Advertising Formats (Sponsored Products & Sponsored Brands), DSP campaigns are not billed via CPC (Cost Per Click) but via CPM (Cost Per Mille).
Audiences & Targeting
Through exclusive Amazon first-party data, the ideal target groups for a product or brand can be addressed on Amazon and outside of Amazon. All shopping data collected on Amazon flows anonymously into the real-time targeting segments in order to be able to address the desired target group with relevant campaigns.
Targeting: Demographic, Lifestyle, In-market, Audience look-alikes, Custom, Contextual, Retargeting