AMA
LYZE

Product Monitoring
Monitor Amazon products with AMALYZE
Working with the dashboard
In the AMALYZE tool for Amazon, dashboards can show product data at a glance that is otherwise displayed in the individual product detail pages. In this way, you can get a quick overview of KPIs (key performance indicators) of your own or competitor ASINs on the Amazon marketplace.
Dashboards in AMALYZE are not user-defined and can be viewed by any user who has access to the subscription. This allows users to easily share data and information.
All dashboards are itemized by user in a menu in the AMALYZE tool and can be selected from there.
AMALYZE Dashboard
Initially, every user has the default dashboard which is part of the basic layout of the Tool and can therefore not be renamed or deleted.
Additional, new dashboards can be given separate names (e.g., a product group, specific Amazon ASIN or SKU). These new dashboards then appear in the menu tree of dashboard administration. Here you can generate data about monitored products that are then graphically represented relative to a time axis.
In the AMALYZE tool, the dashboard widgets are the actual data providers.
Representation of product data via dashboard widgets in AMALYZE
Via the dashboard widgets in the AMALYZE tool, you can also easily compare key figures of your own products with those of competitor ASINs by gathering multiple products in the same widget. This enables users to strategically evaluate their products in comparison to competitors' and helps them determine if their products are falling behind in terms of visibility or BSR, or how different variations of the same parent ASINs develop.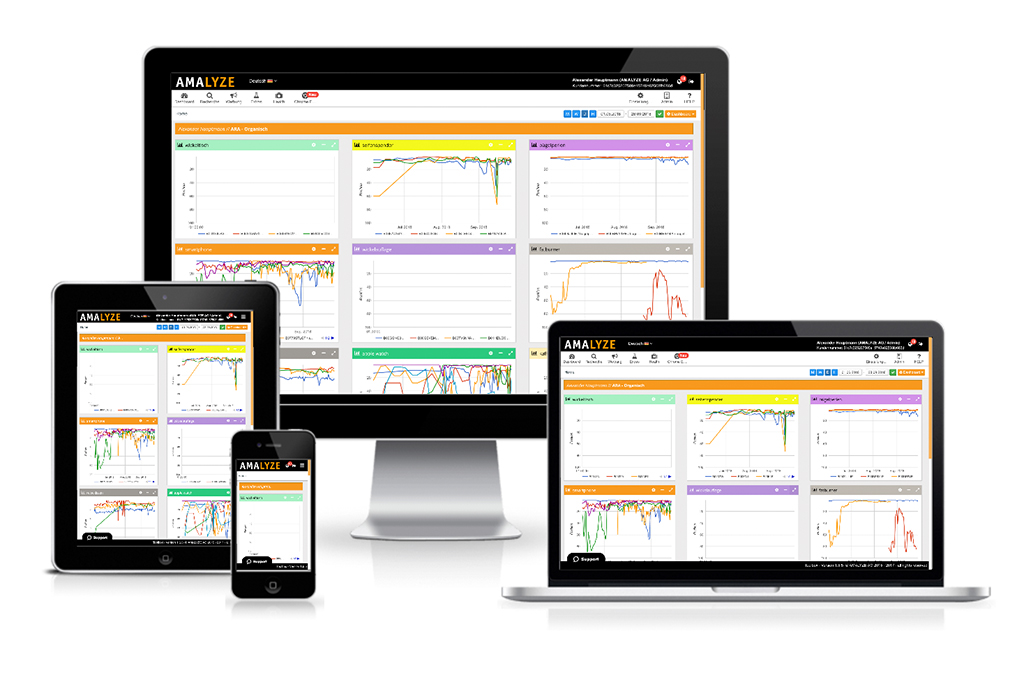 AMALYZE Widgets
The following graphic presentations of data regarding monitored Amazon products are possible in AMALYZE widgets on dashboards:
BSR, i.e., the Amazon Best Seller Rank
AMASCORE, i.e., the internal AMALYZE visibility index of a specific ASIN in comparison to competitors on Amazon
Number of ASINs
Number of units sold
Revenue of measured sales
Rating development of average Amazon reviews
Review development in reference to their number
Distribution of Amazon reviews in reference to ratings of 0 – 5 stars on monitored ASINs, respectively
Within the respective dashboard administration, users have the option of generating an unlimited number of widgets.When creating a new widget, users must assign a name for it for the AMALYZE tool. The name should reflect what values for which Amazon products are retrieved with the widget.
Widget titles can subsequently be renamed as desired. Widgets that are no longer necessary may be completely deleted or moved to other dashboards – either onto another dashboard of the user or to the dashboard of another AMALAYZE user within the same subscription.
For visual optimization, headers of AMALYZE widgets can be colored using the color picker. This is useful in defining associated product groups or, if applicable, marking (color) variations.
This makes the dashboard interface more organized and helps users structure monitored contents more efficiently. For this purpose, selected colors can also be copied and pasted into other widgets, which significantly simplifies workflow.All widgets can be moved freely via drag-and-drop on the dashboards and, if necessary, also be hidden. Currently unnecessary content can thus be simply excluded from the display. Users can also display AMALYZE widgets in a large screen format for easier evaluation.
Display of widgets is changeable via date reference. For example, a selected month can be displayed on a daily basis via a measuring curve. Tracking Amazon products over longer periods of time, e.g., an entire year, can be visualized in a reference frame of calendar weeks or a monthly basis.