FBM – Fulfillment by Merchant – selling on Amazon
How does Amazon's FBM – Fulfillment by Merchant work? Information for selling on Amazon. An overview of advantages, disadvantages, and fees for FBM.
FBM – selling on Amazon
As a merchant on Amazon you have a choice of two models for shipping and warehousing of your own products: FBM (Fulfillment by Merchant) or FBA (Fulfillment by Amazon).
If a seller chooses FBA, the business provides warehouse space, logistical processing, shipping, and customer service, all for a fee.
On the other hand, with the FBM model (Fulfillment by Merchant), the retailer assumes complete responsibility for warehousing, shipping, and customer service.
Both models offered by Amazon, FBA and FBM, offer several interesting advantages for retailers. In this context the FBA model fundamentally offers more for sellers processing high sales volume, since they can profit from the scale effect of high sales volume.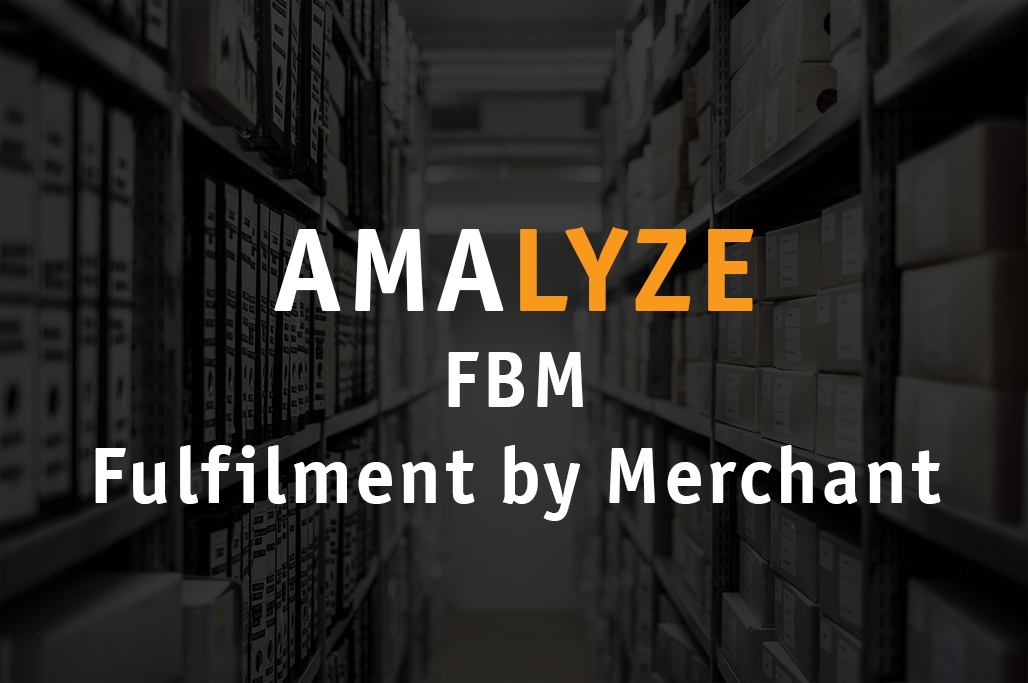 Amazon's FBA and FBM models offer traders some interesting benefits. In this context, the FBA model is generally more suitable for sellers with a high volume of sales, as it benefits from the economies of scale of a large volume of sales.
Features and advantages – Selling on Amazon
The Selling on Amazon program enables sellers to sell their products online on Amazon.de and the other European marketplaces.
The program carries no obligations and can be cancelled at any time.
How FBM on Amazon works
You register on Amazon and open a seller account
You list your products on Amazon
Customers buy your products
You send the products to your customers
Amazon sends you your payment
For whom is FBM suitable?
The FBM model works well for sellers offering customized, unique, and niche products. Amazon FBM gives sellers great control regarding the warehousing of their products.
Also, margins can be larger due to the low fees compared to FBA.
On the other hand, retailers of course do not reap the benefits of Amazon's logistics resources. Following a sale of one of their own products, the retailer must package and ship the item themselves and provide customer service.
FBM retailers can plan and organize all steps for online purchasing and not have to use Amazon's warehousing resources.
If a product is offered by multiple sellers, FBM retailers have an advantage over FBA sellers. Products sold through FBM almost always land behind products shipped by Amazon (FBA). This means less visibility, making it more difficult to reach potential customers.
If you sell certain custom or niche products, competition with other sellers usually won't be so great. If no equivalent product is sold or shipped by Amazon, the disadvantages for FBM retailers are not so bad.
FBA vs. FBM
When using FBA, there is a fee for warehousing the item in Amazon's logistics center. Customer orders are processed directly by Amazon, which means the goods are taken from the warehouse in the logistics center, the inventory is updated, and the item is packaged appropriately and then shipped. All these tasks are performed by Amazon employees. Also, customers can use Amazon's customer service options.
With the FBM model, the retailer has to ship the products himself, either from a warehouse, the company headquarters, or his home. With FBM, shipping, packing, and customer service are the seller's responsibility.
A further advantage with the Amazon FBM (Fulfillment by Merchant) model is that the products can be safely packaged because the seller knows his own products quite well. But with Amazon FBM the retailer has to fulfill and ship his own orders. And in the area of communication, with the FBM model the retailer has to take care of his own customers and solve any problems himself.
It can be much more sensible to simply pay Amazon a fee to have its employees take care of the above tasks in the scope of FBA.
With Fulfillment by Merchant there is yet another disadvantage; Amazon customers gladly use this service. There are no surveys of how the success of a business is influenced by this. When starting out selling on Amazon, it is advisable to sell several products through FBA and several through FBM. Then you can see after a certain period of time which method works best for you.
Here it depends mainly on the kinds of products, so there really is no optimal processing method which would suit everyone.
The cost factor is a significant disadvantage with FBA (Shipping by Amazon). Amazon charges a monthly amount for the use of its storage space, which can significantly eat into your money, especially when storing very large items. Costs for packing and shipping are added on top of this.
Who profits with FBM – Fulfilment by Merchant?
If you already have a shipping system, it makes much more sense not to outsource the entire process to Amazon, especially when you are operating your own online shop.
If a retailer has sufficient experience in the area of order processing, they can most likely go without the service of the internet platform. But if they cannot develop their existing business to enable professional order processing, Fulfillment by Amazon will usually work as a useful support system. Even if the business is very small, the Shipping by Amazon model makes a lot of sense. In addition, new businesses which rely on the FBA model are supported especially well by Amazon. Amazon customers can set up their search results so that FBA sellers are displayed first.
FBM – The products decide it
One drawback with FBA is that the products are not always packed exactly as they should be. In the end the seller often bears the blame for not adequately informing Amazon about the type of product. And so there have been cases in which food dye was shipped in an envelope and received damaged by the customer. So sellers have had quite a few negative experiences with the FBA model where the costs turned out to be excessive.
Effects
Complaints in this area lead to many customers simply being lost due to FBA. This major disadvantage has no clear solution, even in the future. Amazon's shipping network is being further developed, so FBA sellers are preferred. FBA advertisements are being enhanced as well. A minor problem with this model is that customer service must be self-managed.
When deciding on an Amazon fulfillment system, you should also consider the factor of returns processing.
With either option, the retailer is obligated to accept returns. With FBA, Amazon does its own review of returns according to internal company standards. If you don't have your own method of handling returns, the FBA model makes sense in any case. From the customer's viewpoint, Fulfillment by Amazon has a much better reputation. This model makes sense especially for retailers who are new to the business.
Interchangeable or unique goods?
The FBA System makes sense if you sell goods that are interchangeable. If you're selling articles of the same type, it makes sense to outsource the entire process to Amazon. For a new iPhone, for example, every unit is packaged identically. If this product is sold through Amazon Prime, the item can be taken from the seller's inventory, which guarantees the buyer a faster shipment. This way the Apple phone is taken from the existing inventory and simply replaced by the seller.
If, on the other hand, you sell items that are one-of-a-kind, it makes much more sense to handle the shipping yourself. In this case the seller can choose suitable packaging, process the order, and ship the item. Processing by Amazon would not make sense here, particularly with items that take up a lot of storage space (like surfboards).
FBM or FBA – A completely individual decision
With shipping, as with returns processing, your personal decision plays a key part, so be sure to give it plenty of thought. For instance, when a shipment begins it makes sense to divide up the existing inventory of products. Then you can test exactly which of the available processing methods works better, whether it's Fulfillment by Amazon or the other alternative.
If sellers don't have their own distribution platform, they will profit significantly more from the FBA model, since they have access to a professional service for this. If they have established their own internal shipment processing center, the Merchant Network system would be the better choice.
Also important is that warehousing fees vary by season; from January to September, it is 12.50 EUR per cubic meter in the logistics center, and from October to December you'll need to plan on an 18 EUR monthly charge.
Fees – How much does it cost to sell my products?
44.85 EUR per month (39 EUR for sellers who are exempt from VAT), plus a fee for each product sold. The fee varies according to the product category.
How will I be paid?
Amazon Payments Europe transfers the amount to your bank account 14 days after registering. Subsequent transfers are completed every 14 days. Fees, refunds, customer receivables, and chargebacks can affect your account balance. Your account balance in Amazon Seller Central must be at least 1 EUR for a payment to be made.
What products can I sell on Amazon.de?
You can sell products in the following categories: apparel; beer, wine, & spirits; drugstore & perfumes; books; food & drink; music; DVD; VHS; baby; jewelry & clocks; toys; electronics & computers; home & garden; software, sport & leisure; DIY & tools; PC/video games; industrial & science.
What products may I not sell?
No illegal products may be sold, or those marketed illegally, or those prohibited as per Amazon guidelines. These include prescription medications, illegal drugs, firearms, ammunition, and tobacco.
What do I need to register as a seller on Amazon.de?
Bei der Registrierung bei Amazon musst du folgende Informationen angeben:
Email address
A valid credit card or bank account in Germany or Austria
A phone number
Seller information and business information (if any)
Contact and identification information for a designated contact person and company representative (if any)
Bank account details