Amazon Vendor – Sign in to Vendor Central
What is an Amazon Vendor? How do I log in to Amazon Vendor Central? What are the advantages of being Amazon Vendor?
What is an Amazon Vendor?
As an Amazon vendor, you have decided to become supplier of Amazon. One enters into a direct business partnership with Amazon and leaves its own products at the wholesale price Amazon. The goods become the property of Amazon and the company takes over the distribution of the products.
Amazon buys and stores your inventory and takes care of everything else: from shipping and pricing to customer service and the handling of customer returns.
Amazon lists the products themselves, takes over the marketing, determines the selling price and determines the frequency of how often the product is reordered.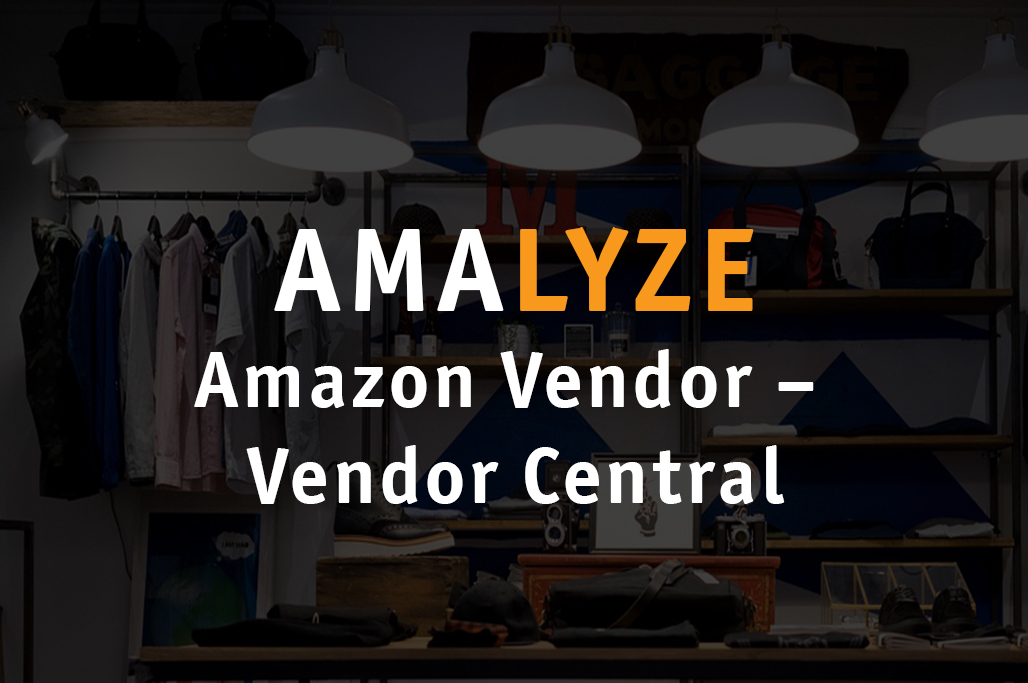 Amazon Vendor
At Amazon's online shipper, the Amazon vendor now plays a major role. As in reality, business deals with trade between buyer and seller. Of course, today any buyer can be who also has access to the Amazon department store.
If the seller now also has access to the online department store Amazon, he can now offer his products to future buyers.
As one is used to from Amazon, the mail order company wants to convey a shopping experience, which is as positive as possible for the customer. Amazon now supports vendors (FBM, FBA or vendor) and buyers in the transaction, which facilitates the transaction on both sides.
How do I log in to Amazon Vendor Central?
If the company already has a business relationship with Amazon, then in most cases it already has the Vendor Central account. As a company you have the opportunity to create users in any number. If you need access to Vendor Central, you just have to ask the administrator of the account for an invitation. Already a short time later you will receive an invitation with all the necessary steps that you need to register as an Amazon Vendor.
However, if the company does not yet have a Vendor Central account, the respective contact person must send an invitation to Amazon. Without an invitation, you can not log in to Vendor Central.
If video and DVD products, books or music are sold in the company, Amazon recommends it to the Advantage program. Interesting information can be easily found at http://www.amazon.de/advantage
If you are now a manufacturer, publisher or author and would like to correct your information on the respective product, then you can use the form "Updating the product information". This can be found by going to the detail page of the product and selecting the item "Product Information". Another option is to ask the supplier for an invitation to the account.
What are the benefits for the Amazon Vendor?
As an Amazon vendor or trader, you can use some of Amazon's resources. As a dealer, you can also use, for example, Amazon FBA (Fulfillment by Amazon). Hereby you can benefit from shipping through Amazon to logistics. As an Amazon Vendor, Vendor Central also has some marketing advantages. Anyone who now attracts attention as a qualified salesman will then be placed better than a trader who has predominantly negative assessments.
The vendor center, the Amazon Vendor Central, also has a tool to manage and organize its sales. Here you can easily add his articles in the Amazon catalog and manage the orders clearly.
Conversion rate increases
The customer demand can be increased, since one can offer now also the free dispatch over Amazon Prime.
Sell through Trusted Brand – Sold by Amazon
With customers aware that Amazon's packaging and shipping are covered, Amazon looks after customer service and returns, adding to their confidence in the product.
Premium Marketing
As a vendor, you get exclusive access to lightning offers, seasonal gift offers, A + detail pages, branded stores, Amazon Vine, and Amazon Marketing Services.
Significantly more sales channels
You can reach the ever growing number of Amazon customers who already use Amazon Prime, Amazon Family, Amazon Pantry or Amazon Student.
The simplified order processing
Orders (POs) are placed once a week and sent to the various Amazon shipping centers all at once – no more individual customer orders
Detailed analyzes
With detailed sales figures, visitor numbers, operational metrics, and geographic analytics, you'll learn more about your customers as a vendor.