Amazon FBA – Fulfillment by Amazon
FBA – Advantages and disadvantages of shipping by Amazon
More than 80,000 distributors and vendors have set up shop on amazon.de, which shows that consumers are not the only ones excited. Retailers also offer their products, some of whom ship themselves, others who use Amazon's shipping service. This is precisely the goal of Amazon's FBA program. FBA stands for "Fulfillment by Amazon," which means "order processing by Amazon".
This unspectacular abbreviation is like gold for distributors who bring their own products to the market, whether under license by a large company or producing items themselves. Fulfillment by Amazon is a good fit for these target groups.
It is certainly worth considering taking advantage of this service, since Amazon independently handles not only shipping but also returns. Since Amazon takes care of everything in its Fulfillment Center, the seller does not have to physically handle the item after the customer orders it.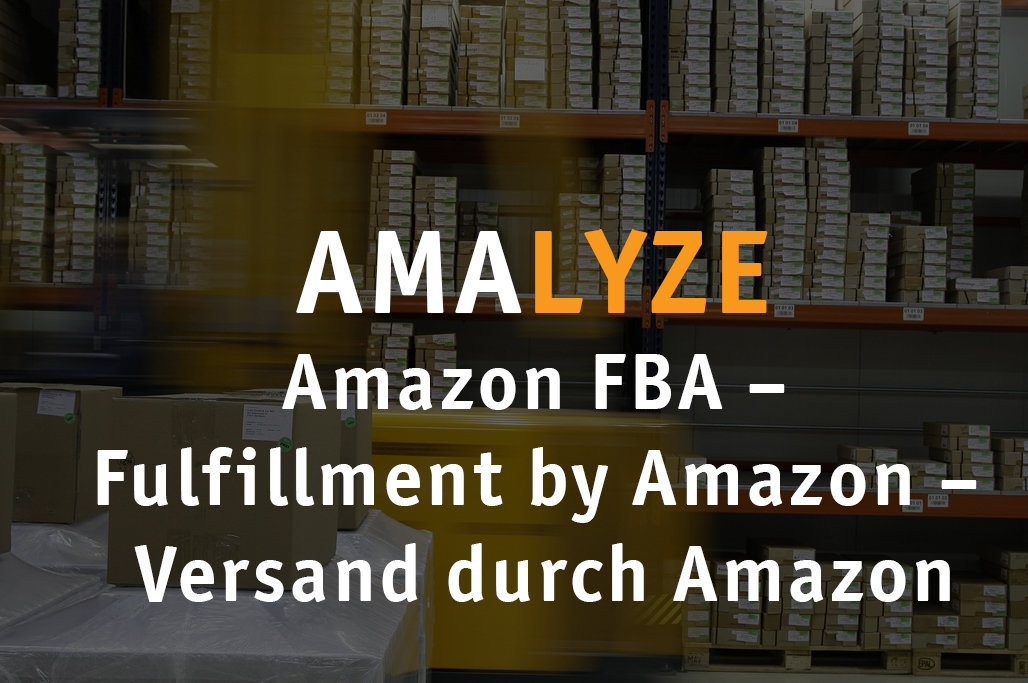 It is certainly worth considering to participate here, because on the one hand not only the consignments are sent out independently by Amazon FBA, on the other hand the returns are managed as well. Because Amazon does everything in its logistics center, the merchant does not need to physically take care of his goods after ordering the customer.
Risks and advantages of Amazon FBA
Whoever sells their products online today knows how much effort it takes, including the high costs of warehousing and merchandise management. Warehouse facilities must be built, purchased, or leased; shipping and returns must be managed; and employees must be supervised and paid. All of this is not only costly but time-consuming.
Although it can be advantageous that the entire process, from ordering to shipping to returns, remains in the control of the seller, things happen differently when it comes to the FBA program. The seller hands over all these processes to Amazon, so that the seller isn't really functioning as such after the order is placed. Sellers are spared a lot of effort and have no issues with an order to worry about, so they simply have to concern themselves with the purchase itself.
One cardinal rule with Amazon FBA: sellers must never run out of stock and post on the site: "This item is out of stock." This costs not only sales, but it quickly degrades your ranking. Distributors who see to it that enough stock is available in the marketplace at all times, who has calculated a sufficient profit margin, and who has sold as many as possible of their own unique products, will likely profit from the FBA service.
FBA and Prime – the conversion boost which supports your products
Shipping of physical products challenges every seller to maintain a smooth, trouble-free process, since customers expect quick, timely delivery. It is therefore desirable that "fulfillment" (FBM) occurs on its own or is handed off to someone who specializes in shipping products sold via e-commerce.
Amazon is an absolute specialist in e-commerce; in Germany the company produces almost half of all e-commerce sales. Almost everyone who has ordered something online has bought on Amazon. Retailers benefit from this because Amazon has conditioned its customers to know – and it sticks in their minds – that Prime means free shipping and faster delivery.
When an online seller takes part in Fulfillment by Amazon, they automatically activate the Prime service for their own products. This is quite important because the conversion rate (CVR) on Amazon is very high, on average around 10%. For an item with "Shipping by Amazon" with the Prime service, the CVR increases to up to an incredible 70%. This substantially affects turnover, which you can quickly calculate for yourself.
How does FBA – Fulfilment by Amazon work in practice?
Send inventory to Amazon
Amazon stores your products – from a single unit up to the complete stock
Amazon Prime – "Shipping by Amazon" – products are more visible and competitive
Amazon takes your products from the warehouse, packs, and ships them
Amazon customer service – Amazon provides customer service in the local language and processes returns
Delivery
You send an item to the Amazon Fulfillment Center. If you get the item directly from the manufacturer, Amazon can even procure it directly, though this is not recommended. It's better to take delivery of the item yourself and send it along to Amazon.
Storage by Amazon
Your products are stored in the Amazon Fulfillment Center. It doesn't matter what quantity of items you have stored there. The FBA costs are determined by the size, weight, and quality of your products.
Amazon Prime
Amazon says that its products sold through the FBA program are clearly more visible and competitive, as they appear closer to the top in product search results and are automatically enrolled in the Prime service.
Shipping by Amazon
Amazon takes over the complete ordering and shipping process (Shipping by Amazon), packing and shipping your articles to customers in Germany and other countries in Europe.
Amazon customer service
Selling products internationally is advantageous and strongly urged with the FBA program, as Amazon takes care of communication with customers in the local language and also handles returns and restocking.
For which online retailers is Amazon FBA worth using?
When it comes to Fulfillment by Amazon and selling your products online using this service, it sounds simple and convenient – and it is. But keep in mind that it's not without cost. And it simply may not be worth it for every seller. This can be the case when you want to sell third-party products for a thin margin. In these cases you have to carefully calculate whether the FBA service will pay off. If you can offer products for a higher margin the FBA program will be of the most value. The costs vary according to the particular item – and the costs can be considerable.
If an item is large and heavy, the FBA service is more expensive, since the shipping costs can vary greatly. For product types experiencing more frequent returns, e.g. fashion and apparel, the FBA service can be more costly, since the processing of returns is time-consuming and expensive. Retailers with few or no customer service employees should consider using the FBA service, since Fulfillment by Amazon includes customer service; customer inquiries and complaints are handled for the seller.
Why does the FBA program play a part in ranking?
Amazon's predominant goal is increasing revenue and growth. The FBA program is an important component of this, since it helps Amazon connect retailers with its own marketplace and increases its customers' satisfaction. With a conversion rate of up to 70% for Prime products, Amazon's share is naturally much higher. Not surprisingly, products which are sold with Amazon's FBA service enjoy a bonus in ranking. This means that products sold with FBA will likely appear in Amazon search results ahead of those without FBA.
Click rate plays a large part since in the search results the customer sees whether the Prime service is available for the item. It is a fact that many buyers often click on an offer bearing the small Prime logo. Customers know that with Prime they will get the item faster and with no return costs. Fulfillment by Amazon directly influences a buying decision and also indirectly the ranking, since the more often an item is sold, the better the Bestseller Rank (BSR) will be.
How expensive is Fulfillment by Amazon – what are the shipping and warehousing costs?
An all-around service like this can't possibly be free, so every retailer has to take this into account. This excludes items costing at least 350 Euros, since these incur no shipping costs, so the FBA program is substantially more favorable for these. The FBA costs combine two components: shipping and warehousing costs. The shipping cost is determined by the size and weight of the item. The warehousing cost is calculated according to cubic meters per month and is thus proportional.
One important note for sellers: calculation of FBA costs is calculated by Amazon itself, and not according to the size/dimensions/weight given by the seller or manufacturer. It can happen that the values deviate from the seller's, which affects the FBA costs.
Equally important: warehousing costs may differ depending on the season. From January to September, the cost per cubic meter in the Fulfillment Center is 12.50 EUR per month; from October to December it is 18.00 EUR.
Summary: How Amazon FBA can help to grow your business
Shipping by Amazon (FBA) helps your sales and revenue growth in Germany and abroad on the Amazon marketplace and other channels. With FBA you'll attract millions of new, loyal Prime customers in Germany and greater Europe, while profiting from Amazon's faster and more reliable logistics, with your customer service provided in the local language.
Send your products to an Amazon Fulfillment Center. Amazon will warehouse your inventory, retrieve the products from the warehouse, and pack and ship them to your customers all over Europe.
Shipping by Amazon is integrated with your Amazon seller account, with a flexible model based on usage-dependent payment, and with minimal inventory requirements.
Further shipping advantages
Use the multi-channel shipping by Amazon to ship orders you receive through your own website or another channel. Integrate information and options from your customers directly into your selling platform. Offer your customers express shipping options for Prime items. Amazon will warehouse your inventory and ship your orders to more than 20 European countries, even if you're on vacation!